It's that time again! Where we readers sum up all the books we read in 2014 . . .
WOW how can 2014 have gone by so fast?
Today is all about my Top 10 Best Books I have in 2014, SQUEAK!
1. Fire & Blood by Victoria Scott
2. White Hot Kiss by Jennifer L Armentrout
3. Uninvited by Sophie Jordan
4. Enchanted Heart by Mindy Ruiz
5. Lux by Jennifer L Armentrout
6. Take Me On by Katie McGarry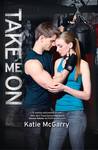 7. Foreplay by Sophie Jordan
8. The Lovely and the Lost by Page Morgan
9. Business as Usual by Denise Grover Swank
10. Captive by A.D. Robertson
I would put one of the Selection books on my top 10 but I haven't completed my reviews for any of the three so until I figure out which out of the three books I like the most although "The One:" really took me.
I really Love Bitter Sweet Love by Jennifer L Armentrout, it's the prequel before White Hot Kiss begin but they were both equal and White Hot Kiss is a full length book.
So what books made it on your Top 10?