SassyCat been very busy with her school work but is attempting to do all thing blogging in her spare time, along with other things.
So here's another Book Releases of the week for October 14th - 20th
Never Fade (Darkest Minds Novel) by Alexandra Bracken
Ruby never asked for the abilities that almost cost her her life. Now she must call upon them on a daily basis, leading dangerous missions to bring down a corrupt government and breaking into the minds of her enemies. Other kids in the Children's League call Ruby "Leader", but she knows what she really is: a monster.

When Ruby is entrusted with an explosive secret, she must embark on her most dangerous mission yet: leaving the Children's League behind. Crucial information about the disease that killed most of America's children—and turned Ruby and the others who lived into feared and hated outcasts—has survived every attempt to destroy it. But the truth is only saved in one place: a flashdrive in the hands of Liam Stewart, the boy Ruby once believed was her future—and who now wouldn't recognize her.

As Ruby sets out across a desperate, lawless country to find Liam—and answers about the catastrophe that has ripped both her life and America apart—she is torn between old friends and the promise she made to serve the League. Ruby will do anything to protect the people she loves. But what if winning the war means losing herself?
Expected publication: October 15th 2013 by Disney-Hyperion
Revealed (House of Night #11) by

P.C. Cast

and Kristin Cast
The spellbinding eleventh and penultimate installment in the #1 New York Times bestselling vampyre series

Drastically altered after her fall at the end of Hidden, Neferet is now more dangerous than ever—and her quest for vengeance will wreak havoc on humans, as well as Zoey and her friends. Chaos is loosed in Tulsa and the House of Night is blamed. Can Zoey stop Neferet in time to keep her anger from escalating to full-on war? Or will someone else have to step in to take the fall?

The House of Night series is an international phenomenon, reaching #1 on U.S., German, and UK bestseller lists, and remaining a fixture on The New York Times Children's Series bestseller list for nearly 150 weeks and counting. With more than 12 million copies in print, rights sold in thirty–eight countries to date, and relatable, addictive characters, this series is unstoppable. Now, in the eleventh and penultimate installment of the series, the action is more intense and the stakes even higher as Zoey and her friends battle to protect their school and home from devastating evil—all while balancing romances, precarious friendships and the daily drama of the House of Night's halls.
Expected publication: October 15th 2013 by St. Martin's Griffin
The Fall of the Hotel Dumort (The Bane Chronicles Part #7)

by

Cassandra Clare

,

Maureen Johnson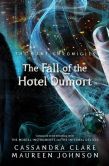 Magnus Bane watches the once-glamorous Hotel Dumort become something else altogether in 1970s New York City.

Fifty years after the Jazz Age rise of the Hotel Dumort, immortal warlock Magnus Bane knows the Manhattan landmark is on the decline. The once-beautiful Hotel Dumort has fallen into a decayed thing, a ruin, as dead as a place can be. But the vampires don't mind...
Expected publication: October 15th 2013 by Margaret K. McElderry Books
Bold Tricks (The Artists Trilogy #3 By Karina Halle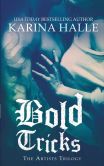 With more lives at stake and games in motion, Ellie, Camden and Javier form an uneasy alliance that will take them from the treacherous streets of inner-city Mexico to the wilds of the Honduran jungles in order to find their freedom. But with liberty just on the horizon, the cost might come at their own redemption.
Kindle Edition
Expected publication: October 15th 2013 by Forever
Friends and Traitors (Slayers #2)

by

C.J. Hill

, and Janette Rallison
The Slayers – teens who have powers to fight dragons—are back by popular demand in this high-octane sequel, now with a new cover package!

Tori is at a White House dinner party when she hears a horrifying sound: dragon eggs hatching. It means in less than a year, the dragons will be mature and dangerous. The Slayers are well-trained, but their group is not yet complete, and Tori is determined to track down Ryker Davis, the mysterious Slayer who has yet to surface.

What Tori doesn't bargain for, however, is the surprising truth about her powers: she isn't a Slayer after all, but a Dragon Lord, with a built-in predisposition to protect dragons, not kill them.
How will she overcome this to save the lives of her friends?
Expected publication: October 15th 2013 by Feiwel & Friends





This book releases seems very random but I promise you next week there should be a Mouse Watch and some really great books that I've been looking forward to.

I'm also taking part of Kristin Miller's Seattle Wolf Pack #2 "Four Weddings and a Werewolf" Blog Tour (Organized by Bewitching Books Tour on October 31st, where I'll be interviewing Logan and Veronica the two main characters of the book. Plus a Review

On another note, I have some reviews to still post and write . . . so I'm doing my best but school comes first.

Future reviews:
Olivia Twisted by Vivi Barnes
The Boss by Abigail Barnette
Shadows (#0.5) by Jennifer L Armentrout
Four Weddings and a Werewolf (Seattle Wolf Pack #2) by Kristin Miller
A Risk worth Taking by Heather Hildenbrand