It's time for another Book release week
Siege and Storm (The Grisha #2) by Leigh Bardugo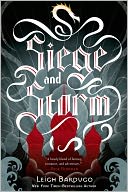 Book Description
Darkness never dies.
Hunted across the True Sea, haunted by the lives she took on the Fold, Alina must try to make a life with Mal in an unfamiliar land, all while keeping her identity as the Sun Summoner a secret. But she can't outrun her past or her destiny for long.
The Darkling has emerged from the Shadow Fold with a terrifying new power and a dangerous plan that will test the very boundaries of the natural world. With the help of a notorious privateer, Alina returns to the country she abandoned, determined to fight the forces gathering against Ravka. But as her power grows, Alina slips deeper into the Darkling's game of forbidden magic, and farther away from Mal. Somehow, she will have to choose between her country, her power, and the love she always thought would guide her–or risk losing everything to the oncoming storm.
Expected publication: June 4th 2013 by Henry Holt and Co.
Tidal (Watersong #3) By Amanda Hockling
With Penn and Lexi determined to kill Gemma and replace her with another siren, Gemma's life is in grave danger...unless she can break the curse before it's too late. With the help of Harper and Daniel, she'll delve deep into her enemies' mythical past--and their darkest secrets. It's her only hope of saving everything she holds dear: her family, her life, and her relationship with Alex--the only guy she's ever loved.
Expected publication: June 4th 2013 by St. Martin's Griffin (first published April 16th 2013)
Phoenix (Black City #2) ByElizabeth Richards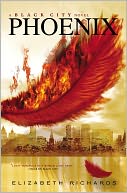 Book Description
Ash and Natalie are just starting to build a life together when things in the United Sentry States go from bad to worse. Ash and Natalie find themselves at the center of turmoil when dictator Purian Rose threatens Natalie's life unless Ash votes in favor of Rose's Law—a law that will send Darklings and other dissenters to a deadly concentration camp known as the Tenth.

When Ash can't bring himself to trade Natalie's life for those of millions of Darklings, her fate is sealed. Enter Elijah Theroux, the handsome Bastet boy Natalie once saved from her mother's labs, where he'd been experimented on and tortured. It was his venom the Sentry used to create the lethal Golden Haze, the heart of the government conspiracy that led to Black City's uprising and Ash's rebirth as the Phoenix, the face of the rebellion. Elijah is back and Ash doesn't like him; it's clear he's taken with Natalie, and Ash fears she may have feelings for him as well.

But Elijah also may have the answer to taking down Purian Rose for good—a powerful weapon called the Ora. Ash, Natalie and Elijah just have to escape Black City undetected to find it. But fleeing the city and finding this weapon (if it even exists) are easier said than done, and the quest could tear Ash and Natalie apart, even pushing them into the arms of others.

This enthralling sequel to Black City is just as absorbing, delicious and steamy as the first book, leaving readers hungry for the series conclusion.
Expected publication: June 4th 2013 by Putnam Juvenile
Well that it for my book releases news, I need to get some reviews posted along with books that need some love.
Well I am missing on quite a few books releases so I am adding on to this post, I discovers these books at my local bookstore and I should've looked harder . . .
Gameboard of the Gods (Age of X #1) By Richelle Mead
Book Description
In a futuristic world nearly destroyed by religious extremists, Justin March lives in exile after failing in his job as an investigator of religious groups and supernatural claims. But Justin is given a second chance when Mae Koskinen comes to bring him back to the Republic of United North America (RUNA). Raised in an aristocratic caste, Mae is now a member of the military's most elite and terrifying tier, a soldier with enhanced reflexes and skills.

When Justin and Mae are assigned to work together to solve a string of ritualistic murders, they soon realize that their discoveries have exposed them to terrible danger. As their investigation races forward, unknown enemies and powers greater than they can imagine are gathering in the shadows, ready to reclaim the world in which humans are merely game pieces on their board.

Gameboard of the Gods, the first installment of Richelle Mead's Age of X series, will have all the elements that have made her YA Vampire Academy and Bloodlines series such megasuccesses: sexy, irresistible characters; romantic and mythological intrigue; and relentless action and suspense.
Published June 4th 2013 by Dutton Adult
The Testing (The Testing #1)

by

Joelle Charbonneau
Keep your friends close and your enemies closer. Isn't that what they say? But how close is too close when they may be one in the same?

The Seven Stages War left much of the planet a charred wasteland. The future belongs to the next generation's chosen few who must rebuild it. But to enter this elite group, candidates must first pass The Testing—their one chance at a college education and a rewarding career.

Cia Vale is honored to be chosen as a Testing candidate; eager to prove her worthiness as a University student and future leader of the United Commonwealth. But on the eve of her departure, her father's advice hints at a darker side to her upcoming studies--trust no one.

But surely she can trust Tomas, her handsome childhood friend who offers an alliance? Tomas, who seems to care more about her with the passing of every grueling (and deadly) day of the Testing. To survive, Cia must choose: love without truth or life without trust.
Published June 4th 2013 by Houghton Mifflin Books for Children
The Keep (The Watcher #4) By Veronica Wolfe
JUST BECAUSE YOU WORK FOR THE DEAD DOESN'T MEAN YOU WANT TO JOIN THEM.

Drew has just started her second year on the Isle of Night, and the weather isn't the only thing changing drastically. She has ascended to the rank of Initiate. She's also found an intimate love in the handsome vampire, Carden. But most of all, she no longer dreams of escape. She dreams of vengeance.

Her friend, Emma, was brutally wounded by the savage vampire Alcántara, and may have been taken to the dreaded castle, from which none of the living return. But there are so many different stories from so many people with so many of their own deceits and machinations, Drew can't be sure of anything—except that she must find a way into the castle to discover the truth and take down Alcántara once and for all.

But Drew isn't the only one out for revenge. Someone very dangerous on the island is also out for blood…

Hers…
Published June 4th 2013 by NAL Trade