Here are some of my Book Releases Picks, this should hold off my readers until I can post some reviews, since some are asking to not post until its release date
Dance of the Red Death by Bethany Griffin
Bethany Griffin continues the journey of Araby Worth in Dance of the Red Death—the sequel to her teen novel Masque of the Red Death.

In Dance of the Red Death, Araby's world is in shambles—betrayal, death, disease, and evil forces surround her. She has no one to trust. But she finds herself and discovers that she will fight for the people she loves, and for her city.

Her revenge will take place at the menacing masked ball, though it could destroy her and everyone she loves…or it could turn her into a hero.

With a nod to Edgar Allan Poe, Bethany Griffin concludes her tragic and mysterious Red Death series with a heroine that young adult readers will never forget
Hardcover

,

336 pages
Expected publication: June 11th 2013 by Greenwillow Books
Rush (The Game #1)

by

Eve Silver
So what's the game now? This, or the life I used to know?
When Miki Jones is pulled from her life, pulled through time and space into some kind of game—her carefully controlled life spirals into chaos. In the game, she and a team of other teens are sent on missions to eliminate the Drau, terrifying and beautiful alien creatures. There are no practice runs, no training, and no way out. Miki has only the guidance of secretive but maddeningly attractive team leader Jackson Tate, who says the game isn't really a game, that what Miki and her new teammates do now determines their survival, and the survival of every other person on this planet. She laughs. He doesn't. And then the game takes a deadly and terrifying turn
Hardcover

,

352 pages
Expected publication: June 11th 2013 by Katherine Tegen Books
Nook Books
Into the Fire (A Hot Nights Series Book)
by
Amanda Usen

Jackson Calabrese has a lot of nerve. He beat Lila Grant in the Culinary Academy competition using her recipes. Now, he's opening a restaurant and wants her help? Fine, she'll fix his menu, but it's going to cost him.

Heir to the Calabrese restaurant empire, Jackson can buy anything he wants, except creativity, so he buys Lila's instead. He can craft perfect paella, but to take New York by storm he needs her innovative spark.

Skillets aren't the only things hot in the kitchen, and an uneasy truce ignites into passion. They're great in bed, but Jackson doesn't trust her, and Lila is contemplating revenge. The restaurant opening approaches, the menu is completed, and the tables are set for one final act of betrayal. How can love bloom in the midst of such a hot mess?
Expected publication: June 10th 2013 by Entangled: Indulgence
*** I have already read this book and my review is awaiting to be posted. I'm also participating in the blog tour, and I'll have a guest post with Amanda Usen on her Top Five Favorite Passages/Scenes on the 17th of June.
Graphic Novels
A Game of Thrones: The Graphic Novel: Volume Two

by George R. R. Martin, Daniel Abraham (Adapted by), Tommy Patterson (Illustrator)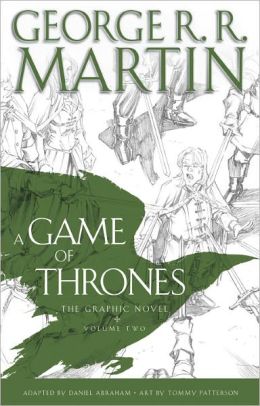 Novelist Daniel Abraham and illustrator Tommy Patterson are not merely turning George R. R. Martin's epic fantasy
A Game of Thrones
into a graphic novel: They are meticulously translating one art form into another, and capturing the intricate nuances of Martin's novels just as HBO is doing with the blockbuster series. The Abraham/Patterson collaboration is more than just a faithful adaptation. It is a labor of love—and a thrilling masterwork in its own right.
Now, in the second volume, the sweeping action moves from the icy north, where the bastard Jon Snow seeks to carve out a place for himself among bitter outcasts and hardened criminals sworn to service upon the Wall . . . to the decadent south and the capital city of King's Landing, where Jon's father, Lord Eddard Stark, serves as the Hand of King Robert Baratheon amid a nest of courtly vipers . . . to the barbarian lands across the Narrow Sea, where the young princess Daenerys Targaryen has found the unexpected in her forced marriage to the Dothraki warlord Khal Drogo: love—and with it, for the first time in her life, power.
Meanwhile, the dwarf Tyrion Lannister, accused by Lady Catelyn Stark of the attempted murder of her now-crippled youngest son, must call upon all his cunning and wit to survive when he is captured and imprisoned in the lofty dungeons of the Eyrie, where Lady Stark's sister—a woman obsessed with vengeance against all Lannisters—rules. But Catelyn's impulsive arrest of the Imp will set in motion a series of violent events whose outcome is fated to shake the world at the worst possible moment. For now is not the time for private feuds and bloodthirsty ambitions.
Winter is coming . . . and with it, terrors beyond imagining.
Expected publication: June 11th 2013 by Bantam (first published January 1st 2013)
Well there you have it, I really am intrigue with the selection I'd picked.
Do you have any books awaiting for release?
This month or next month?