Oath Bound (Unbound #3) By Rachel Vincent
The Tower Syndicate will fall...
The secret daughter of the head of an infamous Skilled crime family, Sera Brandt has hidden her past, her potential and especially her powers. But when a tragedy strikes her other family, Sera needs justice. And the only way to get it is to reveal her heritage–including a rare Skill–and take the reins of the Tower Syndicate from her cunning and malicious aunt.
If he can figure out how...
Kristopher Daniels might have the answer. He's fought the syndicate to protect his sisters, but he'd never realized just how close to the new heir he needed to get....
And if they can survive
Neither is used to trusting. But there's something between them that can't be ignored. And so Sera is on the run with a man she can't figure out, a target on her back and the new knowledge of just how powerful she really is....
Published April 30th 2013 by Harlequin MIRA
The 5th Wave (The Fifth Wave #1) By Rick Yancey
The Passage meets Ender's Game in an epic new series from award-winning author Rick Yancey.
After the 1st wave, only darkness remains. After the 2nd, only the lucky escape. And after the 3rd, only the unlucky survive. After the 4th wave, only one rule applies: trust no one.
Now, it's the dawn of the 5th wave, and on a lonely stretch of highway, Cassie runs from Them. The beings who only look human, who roam the countryside killing anyone they see. Who have scattered Earth's last survivors. To stay alone is to stay alive, Cassie believes, until she meets Evan Walker. Beguiling and mysterious, Evan Walker may be Cassie's only hope for rescuing her brother—or even saving herself. But Cassie must choose: between trust and despair, between defiance and surrender, between life and death. To give up or to get up.
Expected publication: May 7th 2013 by Putnam Juvenile
Mystic (Soul Seeker #3) By Alyson Noel
Since arriving in the dusty desert town of Enchantment, everything in Daire Santos life has changed...and not always for the better. While she's come to accept and embrace her new powers as a Soul Seeker, Daire struggles with the responsibility she holds navigating between the worlds of the living and the dead--and her mission to defeat the evil Cade Richter. But Cade's soul is inextricably entwined with that of her boyfriend Dace, putting their love to the ultimate test. How can she can't defeat Cade if it means destroying Dace too? And is their love strong enough to survive death—and what lies beyond?
MYSTIC is the third book in The Soul Seekers, a magnificent new series about a girl who can navigate between the worlds of the living and the dead, by #1
New York Times
bestselling author Alyson Noël.
Expected publication: May 7th 2013 by St. Martin's Griffin
Invisibility By Andrea Cremer and David Levithan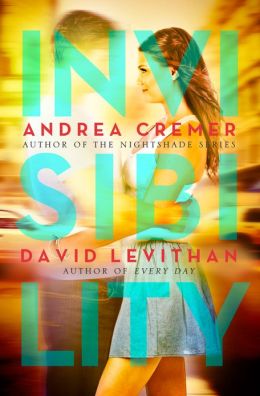 Stephen has been invisible for practically his whole life — because of a curse his grandfather, a powerful cursecaster, bestowed on Stephen's mother before Stephen was born. So when Elizabeth moves to Stephen's NYC apartment building from Minnesota, no one is more surprised than he is that she can see him. A budding romance ensues, and when Stephen confides in Elizabeth about his predicament, the two of them decide to dive headfirst into the secret world of cursecasters and spellseekers to figure out a way to break the curse. But things don't go as planned, especially when Stephen's grandfather arrives in town, taking his anger out on everyone he sees. In the end, Elizabeth and Stephen must decide how big of a sacrifice they're willing to make for Stephen to become visible — because the answer could mean the difference between life and death. At least for Elizabeth.
Expected publication: May 7th 2013 by Philomel
Icons (Icons #1) By Margaret Stohl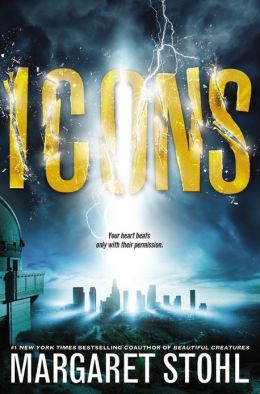 Your heart beats only with their permission.
Everything changed on The Day. The day the windows shattered. The day the power stopped. The day Dol's family dropped dead. The day Earth lost a war it didn't know it was fighting.
Since then, Dol has lived a simple life in the countryside -- safe from the shadow of the Icon and its terrifying power. Hiding from the one truth she can't avoid.
She's different. She survived. Why?
When Dol and her best friend, Ro, are captured and taken to the Embassy, off the coast of the sprawling metropolis once known as the City of Angels, they find only more questions. While Ro and fellow hostage Tima rage against their captors, Dol finds herself drawn to Lucas, the Ambassador's privileged son. But the four teens are more alike than they might think, and the timing of their meeting isn't a coincidence. It's a conspiracy.
Within the Icon's reach, Dol, Ro, Tima, and Lucas discover that their uncontrollable emotions -- which they've always thought to be their greatest weaknesses -- may actually be their greatest strengths.
Bestselling author Margaret Stohl delivers the first book in a heart-pounding series set in a haunting new world where four teens must piece together the mysteries of their pasts -- in order to save the future.
Expected publication: May 7th 2013 by Little, Brown Books for Young Readers